ENAMAX® Hot Melt Welding Adhesive (Ceramic glue) is special materials and formulas, ENAMAX® Hot Melt Welding Adhesive is made with unique techniques and proven amazingly effective by engineers in the plumbing, steam piping, refrigerating & air-conditioning, automotive A/C system and mechanical hardware sectors. Superior to typical adhesives, ours works perfectly and fast to repair cracks, leaking holes in metallic or nonmetallic objects. Highly recommended by users in various industries at home and abroad, ENAMAX® Hot Melt Welding Adhesive is no competitor in markets.

Nano-particles of under 2µm can penetrate deeply into heated objects to quickly fill up cracks and pinholes in only one minute. Featuring excellent adhesion and flexibility, this product is SGS approved to meet the EU environmental protection standards, and guaranteed for a five-year pot-life when stored below 25°C.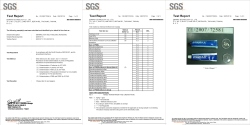 SGS
Number of Total Employees:
17
Capital (USD):
NT$1 million
Business Type:
Manufacturer, Exporter
Competitive Advantages:
1.High quality the product has been very mature and stable.

2.Products have long pot-life with a five-year quality guarantee.

3.Regional agency strategy ensures stable retail prices.

4.Replace to welding, our products are versatile and can effectively bond two objects of different metal materials.

5.Products are suitable for various industrial applications.

6.The product is certified SGS and meet the EU(RoHS) standard.

7.High efficiency: prompt repair/replacement for minimized cost.